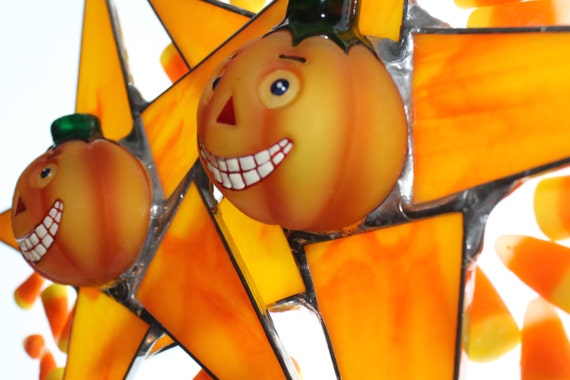 Kurt and Becky, over at the etsy store, can make some of the cutest, SCARY stars,
Readers.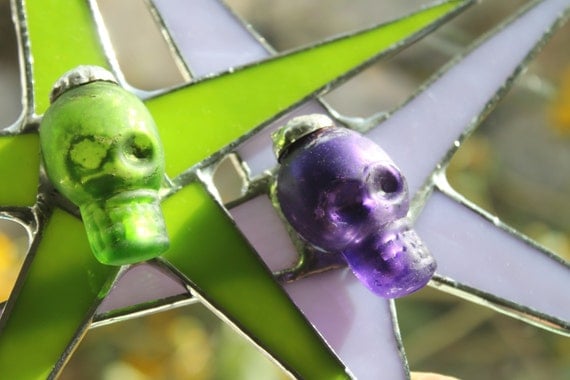 uh-ah! See!These scared me!

I have not always been a "big Halloween buff" because I hate to get scared.... Even though I liked dressing scary one year and subbing at J's elementary. And telling the college mouse story, where I trapped it, covered it in a high quality Nike box and then found it had bit its leg off to escape.
The mouse missed his classes and then was presumed dead when we found a three legged mouse in the food storage room in my basement apartment. eeeeeeee!!!!!!!!!!!!!!!!!11
Skulls were cute when J. was in little grades.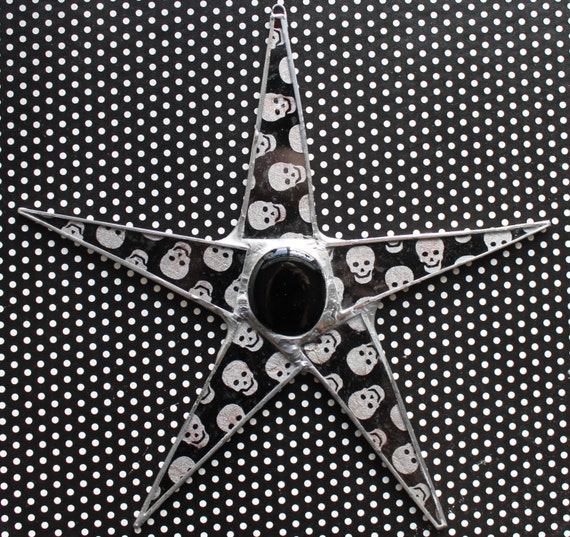 So, for the fearful, they have the "Amanda Friendly" Halloween stars. Like the fat Jack up above which is blown glass as well and only 5 left.
I thought it was made of plastic til I read the full info. and it's glass. Not user friendly with the crazy crew of grandkids but dang, it's so cute and If I had a deep bay window above my sink; I'd put it in there.
Side note here-what is hilarious this, and contradictory to other years, is that I was looking up silhouettes of the wicked witch of the west to put on my green star,
She is easier to see close up so she is down stairs on my Halloween mobile. Which is another work in progress......


Putting a paper plate skeleton behind one of my wreaths to go with a bit of left over polka dot fabric left overs from the Madsen's craft bin to make him "not so scary, " to the Grandkids. Because it's a cheerful "bow" on the suit of this happy skeleton. Right? Picture coming soon. Still waiting on the bow. But here was the inspiration:
I used an older wreath which is in gray hues so it's good to repurpose things even though I really dig this black and white.

Family Dollar had a skeleton, with few hinges, hence the dollar, and plain on the back, another reason it is just a dollar; to put up in the window.
Added to it: my star constellations- which sort of evolve.
I look through what I have, what would look cute. And found that the matte stars STAND out. Sure my see through ones are cute but they don't "pop" when you look at the window from the curb or street.
And that's the whole point: Conveying Well, Hello! with that pop to neighbors, friends, and strangers.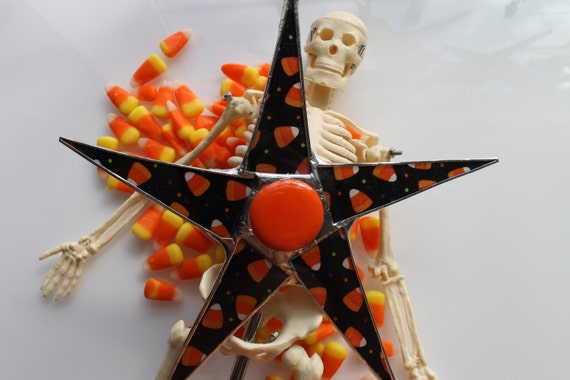 (Candy Corn Star. Pretty harmless.)
I took J's bubbly black star, with his name in the middle and given for 6th grade graduation,
and put the back- which is gray- facing outward. It looks great and can be seen clearly from the street.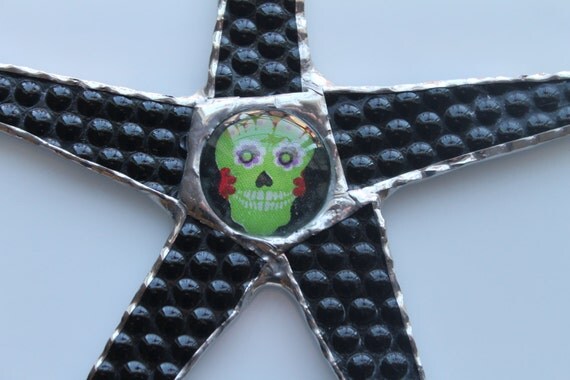 It was custom made and so the points were wider and that bubbly glass is AWESOME.
Playing dinosaurs with my nephew , I found a bat that would be perfect in the center of one of the stars.
But the smiling fat pumkins above are too cute and they made me smile tonight. Which I really needed.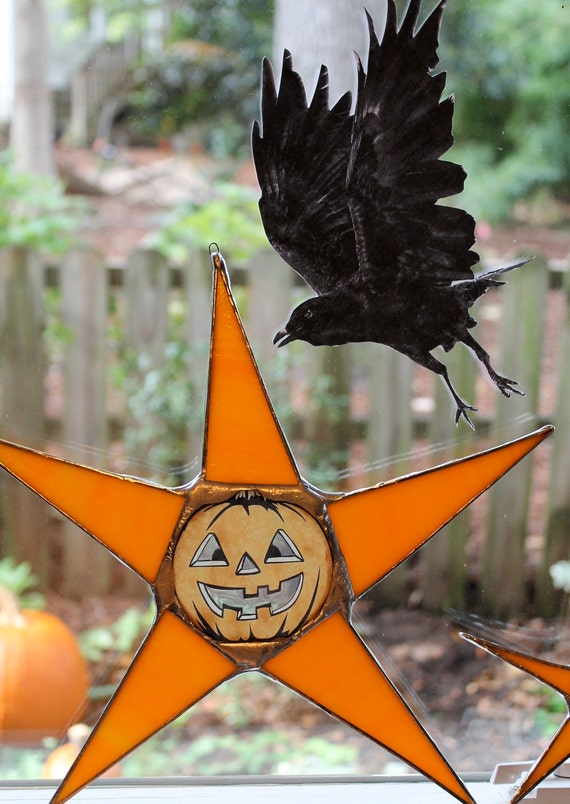 This carved pumkin could care less about the crow (he's worried about Magpies, I bet) or he's just a positive Jack.
If you follow Kurt on instagram you get the low down on sales and flash sales. And see some pretty cool orders others make and they give you flashes of creativity ideas.
Like Susan Branch's art, and her books. I just have to open a page or look at her calendar and I am making something out of something on hand.
Why is it that I have the need to create? or Decorate?
(these Clementine wreaths would smell wonderful wouldn't they?)
I think for me it is the desire to make it
cheerful
for those who come here.
And to keep me cheerful as I taper off prednisone, deal with the dumb esophagus ordeal, etc.
You have to have something to keep you from becoming idyll. Or this disease will break ya down even further.
As you can imagine it makes for some fun times trying to communicate with J. With anyone, really.
It takes a tremendous amount of mental fortitude to lie here and let my body recover from being on prednisone for so long. To wait for those moments when my body creates cortisol by itself!
And then I am up and able to do some of the things I love. Or finding new things to try out. Like that Clementine wreath above or scenting some pine cones or
What a compliment when my nephew asked to play dinosaurs this evening, with ME. And downstairs he emphasized.
It is getting cozier by the minute as I add things here and there.
For instance after staring at the army puke green deco mesh I found on sale last spring- I realized it did go with my caramel tree. AND it does go with some other colors I was afraid of.
Funny how that is- to be afraid to even try colors.
So anyway, I stuck on the scratchy bows in places that needed it and voila! It is just fine.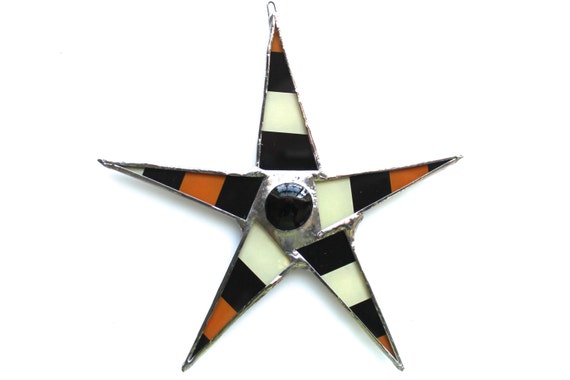 I hate snakes. But this striped milk snake star is perfect to tuck into the left side of my Dr. Suess -ish Thanksgiving Wreath
Re-purpose again!
(And the center star is a custom Piggy & Dirt star. I wanted certain colors and the over all feel to J's room is a mix between a cowboy riding off into the sunset or hiding out in Mexico territory.... Mixed with the custom bulls eye and arrow I requested and is on Kurt's site.
The word "FALL", Readers, is a fun one-those letters are cardboard that I painstakingly cut from some Amazon box years ago and wrapped, in comparison, an expensive, yet coolest ombre yarn.
*I had a yarn year and it's spilled over to this year.
Today, I sadly found one of my stars broken. Either it fell from the space it was placed or a grandkid nailed it and it fell from above the FALL sign.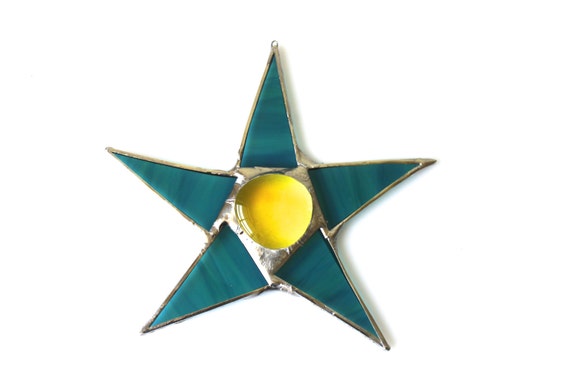 Kurt Knudsen's teal points and lemon yellow center. 5.5 of sweetness. If you buy anything off their etsy site- this is a sweetheart. It brightens your day. Put it where you wash dishes and life will be better.
Must have been the sign: FALL that did 'er in.
Kurt can fix it. I just have to mail it to him. It is a favorite. And may just need to be replaced for all the cost. Who knows.
I do know that when I am sick and trying to "recover" it helps to stay busy. I can start a cheap craft and stop to rest. No pressure. However, I get big ideas and that means soliciting some help if I am sick and then that makes for a happy family!
Or better yet, I start the project and Padre has to finish it. Thank, Dad.
Today, being indoors and weak, I found myself wanting to pull down the cool drift wood stick hanging on J's wall and
hang fake snowflakes from it. Again from Family Dollar.
Even his antlers seemed a cool idea for a blizzard of snow flakes hanging from mobiles.
Is it my way of doing the Indian dance for the snow prayer?
(See Salomon Free Ski TV for the latest installment of waiting for snow. It almost had me biting my nails but I have painted them so that has helped. Not helped it snow. But kept me from biting them.)