Mariner blue Piggy & Dirt star with a Pointsettia ornament (on sale at Lowe's) fashioned to it.
I
feel as if it has been Christmas season for some time already because I have been getting ready for it for a long time.
That's what you have to do when you are chronically ill. Plan ahead. Luckily I didn't get some things put away so I could just pull them out quite easily.
Like the red and green plaid towels. I used to use them only around Christmas. Now we use them on a regular basis but suddenly, because of the holidays- I am looking at them in a new light!
Now that December is here I am trying to put up what I have made and prepared from back into August. Along with deal with the joy of flu season.
The tree is half decorated but looks cuter more up top. So it will be filled in slowly as I make some wood snowflakes and stuff some merlot tulle that was on clearance last year at Joann's. My son's least favorite place but, for some reason, I now realize why people who are unable to climb Everest, go to craft stores.
Health problems don't help when you are trying to do elaborate things like learn to sew something new, find deals online or in line when you are too tired to remain in line at the store, and then having a difficult time on settling on a color scheme.
Weeks, per haps months ago I fell in love with the mariner blue center of a clear star of Kurt's etsy shop. But I figured I couldn't pull it off and I was liking some of the teal colors.
I saw this bit of fabric and decided to pull my twiggy tree into the shades found in it!
Hard to tell, but the colors are teals and blues and a gold throughout. I thought I'd whip up a pillow real quick.
Yeh, right.
Then put the tree together around it.
Then I fell in love with a picture in a magazine of a flocked tree! OH! Wouldn't the stars and boules I had stand out so beautifully if I had the flocked tree???
I am a crush on that stocking and wanted my life to be magically transformed into this scene.
Then another scene from a magazine caught my eye- instead of the traditional star atop the tree it was Santa's red and white furry hat.
I turned the page and there were black hats all over this one tree. I loved the Charles Dickens, chimney sweep, Victorian era look.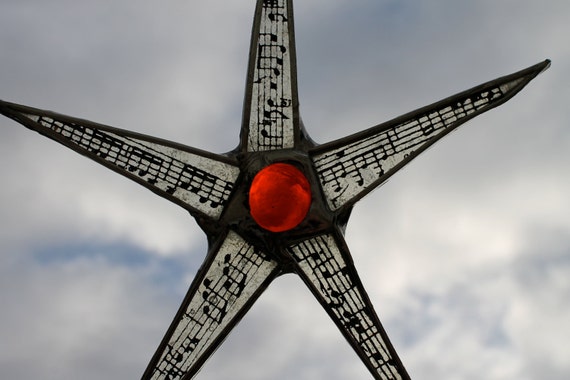 This Christmas Carol star hangs below my Steam punk hat with merlot see through ribbon and striped black and creamish white striped bow. Grandma Mary Lu's vintage pin is centered on it.
Instead of hats all over sticking out like irreverent, missed the boat on Christmas, I wanted one.
And I wanted to hang my white doily "Christmas Star" from the ceiling just where it could catch the light.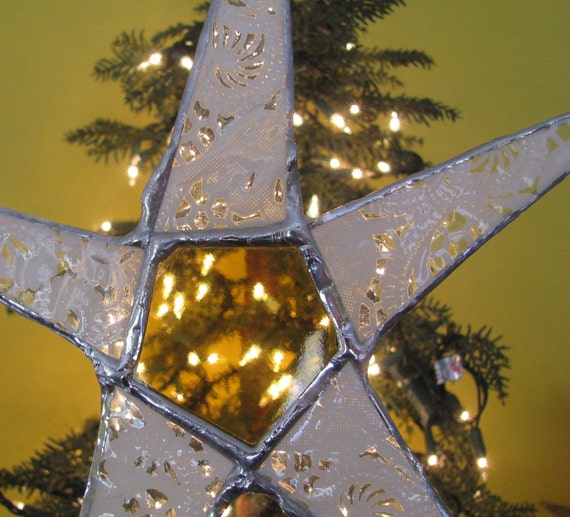 Still need to ask Padre or Jaden for help on that one.
Somehow between then and now, my:
"I'm dreaming of a white Christmas"
has turned into a tree that has darker ornaments on it, and even some black Styrofoam balls wrapped in soft black yarn.
The star of Qatar started the whole ordeal.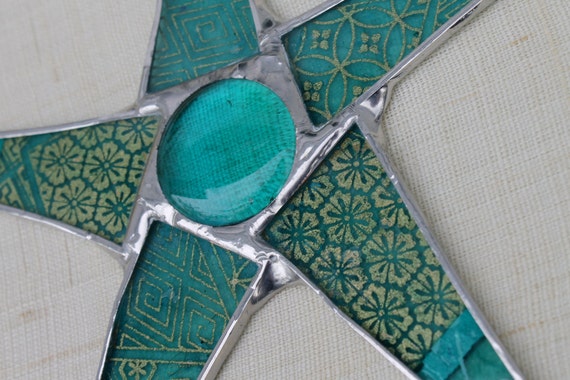 This is Piggy &Dirt's star I had wrapped with some teal wire around a vase for fall. It looked really good with what I had going for the Fall tree because it brought out the golds. Now it was bringing out my favorite colors: teals.
So back to black.....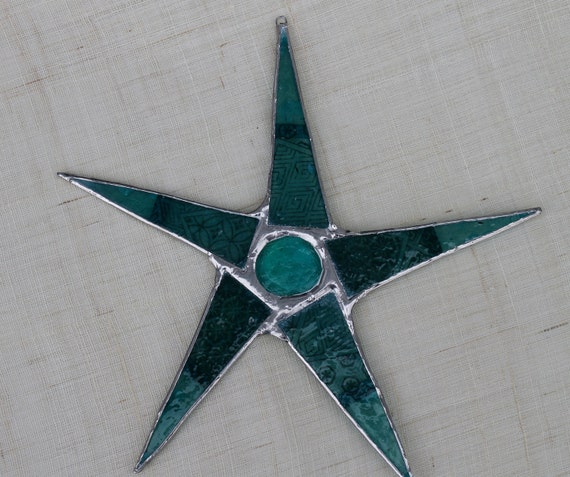 It's mixed with the teals and Atlantic ocean teal but the tree has evolved. There are dark purple star babies, some funky black and creamy ornaments,
And sea foam. Did I mention that already?
So the ocean; teals; steam punk black hat tree topper all from the white flocked tree.
And don't forget your Wal-Mart ribbon:
*with the help of "Bowdabra"
( a device that helps one make bows and can be found at Wal-Mart or Joann fabrics.) I can come off looking like a person who can make a bow.
or at least throwing a lot of ribbon around ornaments to lighten the dark parts. This is a boule made by Kurt that is in Atlantic Teal but ya can't tell what color it really is because I took it on those shorts.

So I put one (bow) on each of J's gifts. And around empty boxes just for display. Like last year.
*how cute is butcher paper? I love it with mixed ribbons and hounds tooth letters and homemade wood ornaments.

This sort of Grinch-ish trickery might be mean but I have to try out my bowmanship! It's the time of year when I get to be Marth "Sthurwart". Wanna-be home maker and creator but really just addicted to a hot glue gun.
3 different sized cheap teal balls filled with dark teal garland stands from Wal-Mart are also on my skinny tree. And there are the wooden snowflakes from last year's Nordic thing I had going on complete with a special book.
Those wooden stars are by far more "breakable" than the glass stars. And time consuming to make.
NOT a kid project.
(also not a kid project but some very cool stars off an etsy site using pyrography which would be fun to learn some day. not now.)
The hearth has the darker teals and Three Wreaths to replace the HUGE gold deco mesh wreath I made some time back when I had no idea what I was doing.
.
More pics tomorrow of the chimney tree. I guess that is what it is. Maybe if I get some Carolers out or chimney sweeps out and around it?? Scrooge in his night gown maybe?